Eine deutsche Version dieser Website findest du hier.
On February 15-16 the Energy Data Hackdays will take place at the Hightech Zentrum Aargau in Brugg. Let's use energy data to improve our common understanding of energy and work on solutions that contribute to increasing energy efficiency in Switzerland.
– More information
– Participate
– Schedule & Location
– Why participate?
– Project ideas & resources
– What happens afterwards?
– Frequently asked questions
– Organisation & Sponsors
More information
Energy companies have large amounts of data that are only partially used or not used at all. Better use of dormant data for new services and analysis is in the interest of these companies and their customers. At the Energy Data Hackdays, energy companies, public administrations and other organisations related to the energy industry provide data for the development of creative ideas and initial prototypes. The focus is on the topics:
– The energy grid as interface to the Smart City/Community (role of intelligent and smart grids)
– The role of the transmission grid in the decentralisation of the production sector
– How can security of supply be guaranteed with more and more interfaces, smaller and decentralised production plants and devices/households/prospumers in the network?
– Convergence of networks and use of data in terms of security of supply and the improvement of public service (city as owner of data and public utility companies)
– Linking network planning/asset management and urban development
Depending on the interest of the participants ("hackers"), the data-providing companies or other institutions, selected results of the Hackdays will be further developed into productive applications.
Participate
The Energy Data Hackdays are open to all interested persons who want to creatively deal with energy data as software developers, designers, analysts or idea carriers ("ideators").  You can register here.
In order to plan the catering requirements correctly, we kindly ask you to inform us at least 5 days before the event, by the 10th of February, in case you wish to cancel your registration for the Hackdays. A later or missing cancellation will result in a cost contribution of CHF 100.
If you are an energy data supplier and would like to become a partner of this event, please contact us via info@opendata.ch.
Schedule & Location
Friday, February 15 2019
09:30 Welcome
10:00 Presentation of project ideas & challenges
11:00 Team building
11:30 Collaborative development of project
Saturday, February 16 2019
15:00 Final presentation of results
The Hackdays take place at the Hightech Zentrum Aargau, Badenerstrasse 13, 5200 Brugg. Catering will be provided. Plus, for the participants who want to work through the night, sofas and some air mattresses will be available.
Why participate?
– Expand your network with a variety of contacts from the energy scene.
– Work with like-minded people on a project idea that is close to your heart.
– Learn more about new developments in the energy sector.
– Present a project idea and motivate the experts to continue developing it with you.
– The Hackdays results remain in the possession of the teams.
– We abide by the hackcodeofconduct.org.
Project ideas & resources
You can find an overview of the already submitted project ideas and challenges here. You can also find the diverse open energy datasets that we liberated, gathered and prepared for the Hackdays.
What happens afterwards?
We strive to achieve a long-term and sustainable impact with the Hackdays projects that have emerged. Accordingly, the partner organizations are happy to continue to support and promote promising projects and results.
Frequently asked questions
Do I need a project idea or a team to participate?
No, this is not necessary. At the beginning of the Hackdays different project ideas and challenges will be presented. You can contribute to the project idea that inspires you the most.
Are the Hackdays only for developers?
No, the Hackdays are not only for developers, but also for visualizers & designers, energy specialists, journalists, lateral thinkers & doers. You can register here.
Do I have to stay on site for almost 48 hours?
No, that's not necessary either. It is important that you contribute to the success of your chosen project and discuss with your team when and where you work.
What do I need to bring with me?
Most important: don't forget your laptop. You may also want to bring your notebook, pens and possibly a sleeping bag. However, we will provide you with a basic supply of material, such as papers, flipcharts, post-it, food and drinks.
Organisation & Sponsorship
The Energy Data Hackdays is an initiative of the future region Argovia and the association Opendata.ch. The event is made possible by: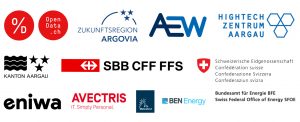 If you would like to support the event as an energy data supplier or partner, please do not hesitate to contact us at info@opendata.ch.