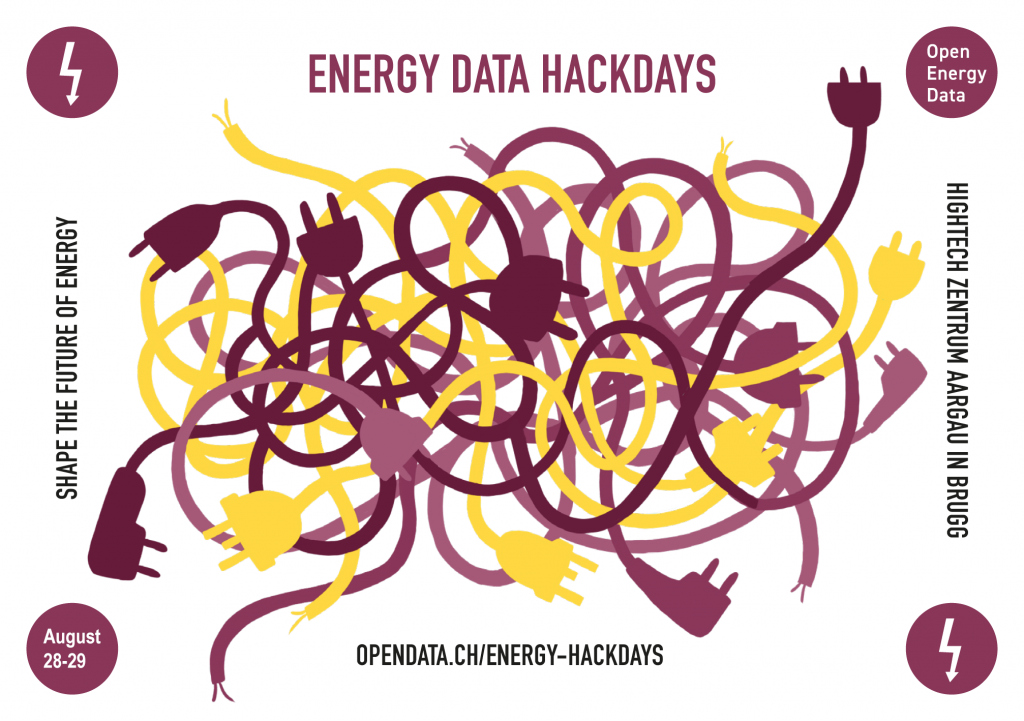 The Open Energy Data Hackdays 2020 took place
the 28th and 29th of August 2020 in Brugg!
Happy and fully fledged, with all of the planned challenges, fine food
and nice people the way we like it!
Many thanks to all the participants, sponsors and supports!
We were impressed by the high skills brought together by a group of 80 people on site plus 7 people working remotely.
Their proposals for the ambitious challenges were nonetheless ambitious and convincing as you can see for yourself:
See the challenges here: Challenge presentations (from min 37)
and the projects after two days of intense work: project presentations 1/2 (at 2h17m ) and here: project presentations 2/2
Each of the projects are documented specifically on our hack platform hack.opendata.ch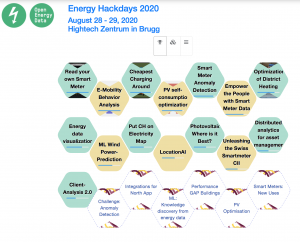 We are also very happy that the Hackdays were the occasion for Campus 21 to harvest the visions of some of the experts present for the future of Open Energy Data:
.
Keep tuned for the Energy Data Hackdays 2021 and our other hackathons by signing up to our newsletter or checking our projects page.
Looking forward to meeting you!
.
.
.
.
That's how we announced the event in 2020:
Do you want to work towards a sustainable future?
Become part of our Energy Data Hackdays and
develop new solutions in interdisciplinary teams within 32 hours!
Where: Hightech Zentrum Aargau in Brugg
When: 28 – 29 August 2020
 The 13 solutions developed last year prove that open Hackdays can make a valuable contribution to energy efficiency and to our understanding of energy. Let's build on these results and use energy data to create a sustainable energy future. Welcome are all kinds of skills and perspectives: students*, data analysts*, designers*, programmers*, experts* and many more!
"Collaboration and open data are the fundamental conditions for implementing the Energy Strategy 2050" Martin Hertach, Federal Office of Energy
What are the project ideas & datasets?
Why energy data?
Digitalization, which has already fundamentally changed many industries in recent years, is only just beginning in the energy industry. We want to exploit this potential!
 Energy companies and public infrastructure operators are generating large amounts of data that are only partially used or not used at all. A better use of idle data for new services and analyses is in the interest of these companies and their customers, but above all in the interest of society. Within the framework of the Energy Data Hackdays, energy companies, public administrations and other organisations related to the energy industry provide data for the development of creative ideas and initial prototypes.
How can I participate?
The Energy Data Hackdays are open to any interested person. Our goal is to bring together interdisciplinary teams in which software developers, designers, scientists, analysts and ideators work together to develop new solutions.
 If you would like to become a partner of this event as an energy data supplier or as challenge partner, please contact us at info@opendata.ch.
What's the plan?
 Friday, August 28th 2020
09:30 Reception
10:00 Presentations of project ideas & challenges
11:00 Team composition
11:30 Collaborative project development
Saturday, August 29th, 2020
15:00 Final presentation of the results
Followed by a farewell drink
 The event will take place at the Hightech Zentrum Aargau, Badenerstrasse 13, 5200 Brugg. Catering will be provided. Sofas and a few air mattresses will also be available for those who want to work through the night. 
Why should I participate?
The exciting challenges are what motivated me most. I felt that i'll have the chance to be creative and to meet people from other branches and points of view. And so it was. Reaching for a meaningful goal, the interdisciplinary exchange and the super spirit – it totally fulfilled my expectations!
 – Expand your network with diverse contacts from the scene
– Work with like-minded people on a project idea that is close to your purpose
– Learn more about new developments in the energy sector
– Be part of the energy revolution against climate change
– Present a project idea and motivate the experts to develop it further with you
– Perhaps get support for further development of your project
* We are very much encouraging women to take part: it would be a pity to miss out on your valuable insights.
Project ideas & data
Instead of the event previously planned in March, we were able to hold an online mini "Pre-Energy Hackdays 2020" where around 20 people at time took part. A few of the challenges were pitched and the teams came up with first drafts and data analyses that should serve the next literacy of the projects.
You will find here an overview of the challenges already submitted and you can have a look at the projects that were started in March. Here are the 13 solutions of the last year.
You can also find here the various open energy data sets that we have released, collected and processed for the Hackdays until now.
Frequently Asked Questions
How much does my participation to the Hackdays costs?
The Hackdays are free thanks to our sponsors and partners.
Food (including breakfast), electricity/ basic workplace infrastructure and internet are also provided.
 Do I need a project idea or a team to participate?
No, this is possible, but not necessary. At the beginning of the hackathon different project ideas and challenges will be presented. You can work on the project idea that inspires you the most. 
Are the Hackdays only for developers?
No, the Hackdays are not only aimed at developers*, but also at designers*, energy specialists*, journalists*, lateral thinkers* & makers*. You can register here.
Do I have to stay on site for 32 hours?
No, that's not necessary either. It is important that you contribute to the success of your chosen project and discuss with your team when and where you work.
What is the official language?
English! In the groups, feel free to adapt to your preferences.
What do I need to bring along?
Most important: don't forget your laptop. You may also want to bring your notebook, pens and possibly a sleeping bag. However, we will provide you with a basic supply of material, such as papers, flipcharts, post-it, food and drinks. 
What happens afterwards?
We aim to achieve a long-term and sustainable impact with the Hackdays projects being created. Accordingly, the partner organisations are happy to continue to support and promote promising projects and results the best they can.
The discussion about energy also goes on within the Energy Data Working Group. Have a look!
 The Hackdays results remain in the possession of the team
We abide by the hackcodeofconduct.org
Organization & Sponsorship
The Energy Data Hackdays is an initiative of the Zukunftsregion Argovia, the Hightech Zentrum Aargau and the Swiss association Opendata.ch.
The Hackdays are made possible by:
AEW Energie AG,  Elektrizitätswerke des Kantons Zürich,  Kanton Aargau,  Bundesamt für Energie, Bundesamt für Statistik, Road to Bern, SEP Swiss Energy Planning, Kickstart, Akenza, Energy Startup Days, BEN Energy, Tomorrow, geoProRegio
 and our partner Research Institutes:
ESC/ETH,  Paul Scherrer Institut,  FHNW,  HSLU
 If you would also like to support the event as an energy data supplier or as a financial or communication partner, please contact us at info@opendata.ch.