Episode 02: Shape my City
powered by the City of Lucerne, the Master in Applied Information and Data Science of the Lucerne University of Applied Sciences and Arts and by opendata.ch
The Open Data Hackdays – Shape My City are taking place online today! 12 teams are working right now on complex questions involving quite a few competencies in GIS, data- analysis and project development. Looking forward to the results! We will soon be posting the presentation of the challenges.
Don't miss it!

Location: Online!
Schedule: Friday, 27th November 2020, from 9am to
Saturday, 28th November 2020 6pm
Introduction
Welcome to our second episode of the Open Data Hackdays, which will take place online on November 27-28, 2020. This yearly event series is organized by the students currently attending the master's degree course in Applied Information and Data Science at the Lucerne University of Applied Science and Arts in collaboration with opendata.ch.
Due to the COVID19 sanitary situation, the Open Data Hackdays will be held exclusively online
In this episode, we're all about the city of Lucerne. Together, we want to drive the city forward to become a smarter digital Lucerne to make city life more ecological and resource-saving and increase equal opportunities for its citizens and visitors. Participate in this event and solve real challenges around the City! Let's collaborate to transform Lucerne for a better tomorrow.
Schedule
Friday, 27.11.
09.00  Welcome & Check'in Session (zoom link follows)
09.15   Introduction
09.30  Challenge pitching
10.30  Group building
11.30  Start hacking
12.30 Time for lunch
19.00 Time for Dinner
20.00  Continue hacking – open end
Saturday, 28.11.
08.00  Teams start hacking when they want
10.00  Input Talk (to be announced)
12.00  Time for lunch
14.45  Presentation of your creations
& open discussion (zoom link follows)
16.00 Teaser 2021 & closing virtual Apéro (wonder.me)
What is a Hackathon?
What can you expect?
Two exciting, exhausting and challenging days are waiting for you! Together with your skills and the business knowledge of our local partners and mentors, we will develop innovative solutions for various challenges around the city of Lucerne in about 48 hours. 
In cooperation with various neighbourhood associations of the city of Lucerne, the Forum Luzern 60+ as well as EWL – Energy Wasser Luzern we prepared exciting topics and datasets for you, which specifically address needs in Lucerne. On the first hack day, our group leaders will present specific challenges, which you can join afterwards. If you already have a specific topic, of course, you can also create your own challenge team.
Hear what the participants, challengers and organizers of last year's event said about their experience!
The Event
Due to the current situation, the event will be held online this year and is completely free of charge. During the Open Data Hackdays the communicative exchange will mainly take place via slack and zoom. In addition, Slack offers you space for group work, tutorials and technical support, e.g. from IBM. Furthermore, various interactive online tools such as Wonder.me, Miro, Trello, etc. are used. If you are not yet familiar with these tools, contact our support team in Slack and get assistance. You will receive the Slack registration/login link after registration at the Open Data Hackdays.​
Participation
This event is entirely under the motto "Participation" and you are invited to take part on this exceptional event to decide on the future of Lucerne. The Open Data Hackdays are open to all interested persons who want to creatively deal with city data as software developers, designers, data scientists, analysts or idea carriers. Let us come together and help Lucerne to become a smarter digital city!
All attendees, sponsors, partners, volunteers and staff at our hackathon are required to agree with the Hack Code of Conduct. Organisers will enforce this code throughout the event. We expect cooperation from all participants to ensure a safe environment for everybody. For more details on how the event is run, see the Guidelines on our wiki.
Canceling
In case you (unfortunately) have to cancel your registration for the Open Data Hackdays, we kindly ask you to inform us and unsubscribe from the list (link at the bottom of our confirmation Mail)
Challenges
You will soon find the challenges here, as they will be uploaded and updated.
Together in teams, you will solve tough and exciting city challenges to benefit the citizens of the city of Lucerne and its businesses for economic growth, social welfare and environmental sustainability. These topics are constantly being expanded and are not complete yet.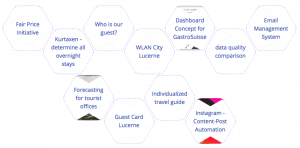 FAQ 
Do I need a project idea or a team to participate?
No, this is not necessary. At the beginning of the Hackdays different project ideas and challenges will be presented. You can contribute to the project idea that inspires you the most.
Are the Hackdays only for developers?
No, the Hackdays are not only for developers, but also for visualizers & designers, economists, urban planner, enthusiasts, journalists, lateral thinkers, special sauces & doers. Programming skills are not required.
Do I have to work for almost 48 hours?
No, that's not necessary. Still, to contribute efficiently to the success of your chosen project, discuss well with your team when and on what you work
Is the event for FREE?
The Open Data Hackdays are completely free of charge.
Can I join without working on a challenge?
Of course, you don't have to be a hacker to participate in the Open Data Hackdays. You can also take part in the event as a mentor, idea driver, project manager, sponsor, journalist or guest. Just indicate at the registration what your task will be during the Hackdays and write your "job" in your slack profil. We would be happy to meet you online at the event.
You are interested in the Master's of Science programme in Applied Information and Data Science from Lucerne University of Applied Sciences and Arts?
The IDS Master's programme enables you to use the potential in data to create innovative products and services, develop new business models and optimise current processes. The Master's programme provides you with deep expertise as well as specific skills that you can apply readily in your work. You will be working on various projects to build your knowledge by tackling real-life problems encountered in a wide range of applied fields – under the guidance of experienced lecturers, each with a strong track record in academia and the industry.
Find out more and visit the website of the Lucerne University of Applied Science and Arts.
Registration deadline
20th November 2020
Further questions?
If you have any questions, you can reach us at the email addresses listed below, or on Facebook at Open Hack Days. Feel free to ask!
The event is made possible by