Episode 01: Tourism
powered by Tourist Office Lab and

Master of Science in Applied Information and Data Science


at Lucerne University of Applied Science and Arts
We already have 70 great minds on board.
REGISTER NOW now and don't miss out on this premiere.
Schedule:
Friday, 29th November 2019, from 9am to
Saturday, 30th November 2019 6pm
On November 29-30 the Open Hackdays Lucerne edition will take place at the Laboratorium in Lucerne. This will be the very first episode of a bi-yearly event series presented by students from the Lucerne University of Applied Science seeking their master's degree in Applied Information and Data Science.
In this episode, we're all about tourism. Tourism in Switzerland is an important economic engine and key to many Swiss incomes. Let's create new solutions that have the potential to disrupt tourism in Switzerland, create mind-blowing happenings and make the industry more transparent, social and sustainable. 
Schedule
Friday, 29.11.

09.00 Welcome breakfast

09.15 Introduction

09.30 Challenge pitching

10.30 Group building

11.30 Start hacking

12.30 Lunch

19.00 Delicious Dinner 

20.00 Continue hacking – open end

Saturday, 30.11.

08.00 Individual start hacking with breakfast

12.00 Lunch

14.00 Input Talk (to be announced) – open for friends & supporters!

14.45 Presentation of your creations & open discussion

16.00 Closing Apéro & teaser 2020
What can you expect?
Our members represent local companies, leading institutions and industry organizations in Switzerland's tourism field. Together with your skills and the business knowledge of these partners, we will develop new solutions for various challenges. Think about creating an application that improves the experience of your trip and considers picturesque routes rather than the fastest route. Or think about developing a tool that visualizes the challenges of tourism in cities and supports them in solving bottlenecks.
We'll provide an inspirational location including a refreshing shower and, for the participants who want to work through the night, sleeping possibilities. Of course, there's also plenty of brainfood, exciting datasets, a motivated crowd and diverse know-how and knowledge from all around the world.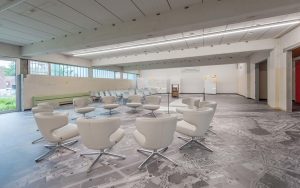 Let's join forces!
We invite you to take part in this very first episode of the Open Data Hackdays in Lucerne. Let's meet. Let's innovate. Let's explore the potential of open tourism data, share our insights, learn from each other and start creating. 
The Open Data Hackdays are open to all interested persons who want to creatively deal with tourism data as software developers, designers, data scientists, analysts or idea carriers. 
PS: In order to plan the catering requirements correctly, we kindly ask you to inform us at least 5 days before the event, by the 24th November, in case you (unfortunately) have to cancel your registration for the Hackdays. Places are limited and we really don't like food waste. 
Challenges
Take a peek at the first announced challenges (work in progress, there will be more!):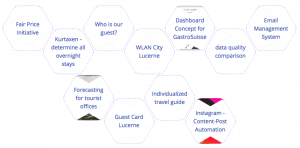 Frequently asked questions
Do I need a project idea or a team to participate?
No, this is not necessary. At the beginning of the Hackdays different project ideas and challenges will be presented. You can contribute to the project idea that inspires you the most.
Are the Hackdays only for developers?
No, the Hackdays are not only for developers, but also for visualizers & designers, economists, travel enthusiasts, journalists, lateral thinkers, special sauces & doers.
Do I have to stay on site for almost 48 hours?
No, that's not necessary. It is important that you contribute to the success of your chosen project and discuss with your team when and where you work
What do I need to bring with me?
Most important: don't forget your laptop. You may also want to bring your notebook, pens and possibly a sleeping bag. However, we will provide you with a basic supply of material, such as papers, flipcharts, post-it, food and drinks.
Is there enough power supply on site? As far as I can see, your location doesn't look like that right now..
Don't you worry, we are prepared for the worst. Highspeed WIFI & Powers supply is guaranteed. There won't be anything that can stop us from tackling these challenges.
Is Kupferkessel food for FREE?
Yes, all meals will be for free on both hackdays. Same for the sleeping possibilities, the hackdays are for free for all participants: CHF 0.-, gratuit.
Can I bring friends or supports? / Can I join without working on a challenge?
Sure you can, but due to respect on our hardworking hacking and designing and thinking community – not before Saturday 2pm. We need to focus on the challenges and earn the apéro ;)
How do you get a creative vibe on location? 
We're happy to cooperate with Iwona from Creative Switzerland who supports us with mind-blowing toolsets: creative-switzerland.com
Who did this amazing visual?
That was Alexandra Wegener, thanks a bunch. http://alexandra.wegener.ch
Further questions?
Feel free to ask! hackdays@opendata.ch
The event is made possible by: