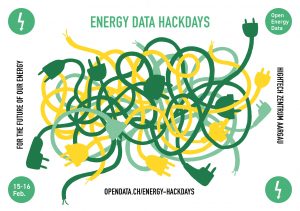 On February 15-16 the Energy Data Hackdays will take place at the Hightech Zentrum Aargau in Brugg. 
Let us use energy data to improve our common understanding of energy and work on new solutions to shape the future of energy use in Switzerland. Energy companies, public administrations and other institutions will disclose exciting new energy data for this purpose. We are very curious to see what we can achieve with it!
What are the effects of digitisation and decentralisation on our energy sector? What role do networks play and how do municipalities and their utilities deal with them? How can we use data to exploit this potential? Over 50 participants from a wide variety of fields – programmers, designers, energy experts, thinkers & doers – will bring their skills together to answer these questions
The Energy Data Hackdays are open to all interested persons who want to creatively deal with energy data as software developers, designers, analysts or idea carriers ("ideators").
You can find more information about these Hackdays on our event site and sign up right away over here.